Watch the video or read the instructions below to hardwire your OneSync undercabinet flat panel lights.
NOTE: The Feit Electric OneSync under cabinet flat panels can be hardwired or plugged in with a separately sold power cable.
Get Ready For Installation
Before getting started you'll need:
Your OneSync Under Cabinet Flat Panel and all its contents
Tools: Philips head screwdriver (+), flathead screwdriver (-), pencil, pliers, wrench, 18 AWG wire stripper
Make sure your power is turned OFF at the breaker before proceeding
OneSync Under Cabinet Flat Panel Hardwiring
1. Position the Flat Panel
Locate the desired place for your OneSync Under Cabinet Flat Panel. Make a clear mark on the surface using the mounting bracket template provided.



2. Install the Mounting Screws
Screw in the provided mounting screws on the marked locations. Make sure to leave a gap of 0.08-0.10 inches between the screw head and the installation surface.

3. Remove the Hardwire Bracket
Remove the screw on the hardwire bracket, then slide and lift the bracket off the flat panel light.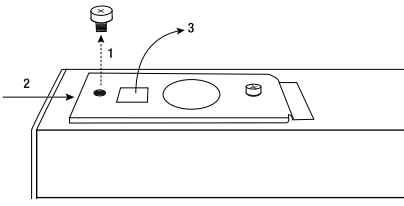 4. Remove the Knock-Out
Be sure to carefully remove the knock-out with your flathead screwdriver.



5. Install the Clamp Connector to the Knock-Out Hole
Insert the clamp connector (HH) through the hole and secure it with the nut. The clamp connector (HH) should be on the outer side of the bracket.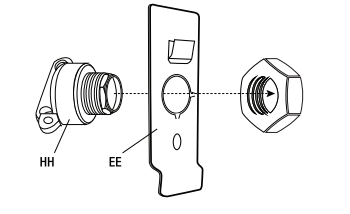 6. Cut and Strip Wires
Take out black and white 18 AWG wires in the flat panel. Take out the green 18 AWG wire (II) in the plastic bag. Cut and strip the wires to the correct length.

7. Wire Power Supply to the Flat Panel
Feed the supply wire through the clamp connector (HH) and knock-out hole and make all the connections with the wire nuts provided. Connect the 120V line (black) wire to the black wire. Connect neutral (white) wire to the white wire. Connect the ground (green) wire to the green wire.

8. Replace the Wiring Bracket
After connecting the wired correctly, place wires inside the fixture and reinsert the bracket by sliding it over and screwing it secure.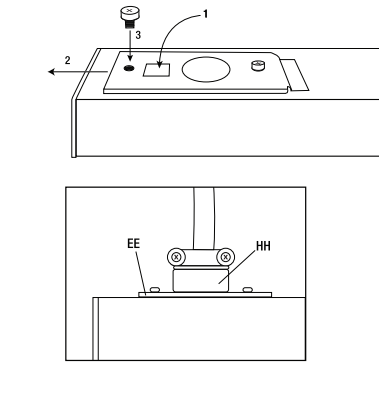 9. Secure Supply Wires with the Clamp Connector
Firmly screw the clamp connectors down on the wire.
10. Mount Your OneSync Under Cabinet Flat Panel and Restore Power
Align the holes on the back of the fixture to the heads of the mounting screws. Slid your flat panel towards the mounting slit. Your flat panel should be snug. If your flat panel is NOT snug, remove your flat panel and readjust the screws. Restore your power to enable OneSync Under Cabinet Flat Panel operation.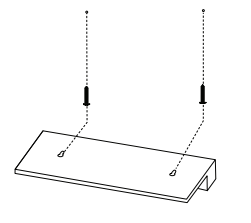 (optional) Link Multiple OneSync Under Cabinet Flat Panels
To link multiple OneSync Under Cabinet Flat Panels, connect using the provided linking cable (BB).

For detailed instructions, please reference the Feit Electric OneSync Under Cabinet Flat Panel installation guide.