Here are a few troubleshooting tips to help you connect your Smart Dimmer to Wi-Fi.
Check to see if your smartphone is connected to a 2.4 GHz network
Many routers have two bands a 2.4 GHz and 5 GHz network. They may or may not be clearly identified. You can use your smartphone to check to see what bands are available. If your device is closer to your router (5-15 feet) it may automatically connect to the 5 GHz band. Here's a video showing how to check your Wi-Fi networks on an iOS device.
Here's what you might see:
You might see ONE network. If your router is older it might mean you have a single band network and it's a 2.4 GHz network. If you have a new router it probably means you have a mesh router that combines the 2.4 GHz and 5 GHz bands together. You may need to contact your router manufacturer or service provider for assistance to separate the two bands. You will need a dedicated 2.4 GHz network to successfully install the Feit Electric device.


You might see TWO networks or more. This could mean you have both 2.4 GHz and 5 GHz bands. There may also be a guest network without a password. We recommend you use a network with a password for security purposes.
Look for the network that has a 2.4, 24, or something similar next to it. They may not be clearly labeled. You may need to go to your router admin portal or contact your service provider for assistance.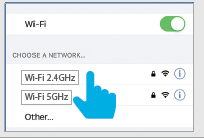 Make sure the Wi-Fi network is a 2.4 GHz network. The Smart Dimmer will not connect to a 5 GHz network. If your Smart Dimmer is already on the right frequency, make sure that your phone is not using a VPN app in the background.
Check your Wi-Fi password
Keep in mind the password is case sensitive. Double-check to be sure you are not using your app password. Also, passwords containing more than 32 characters will not be accepted.
Consider your Wi-Fi network coverage and bandwidth.
Look at where your router is located. If it's in a remote location like the basement or attic, or Wi-Fi is impeded by concrete you may have a coverage issue. Try bringing your router within 20 feet to see if it connects.


You may also need to consider upgrading your router or adding a range extender to improve your coverage and bandwidth availability.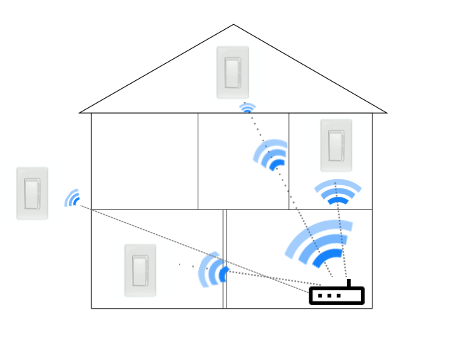 Read How to Troubleshoot Wi-Fi for more tips
Check your router settings
You may need to look at your router's admin page where you manage passwords and other settings. Or you may need to consult your router brand or internet service provider for assistance. Things to check include:
Device limits - even though routers can issue many IP addresses sometimes their factory settings may limit the number of connected devices allowed.
WPS - check to see if your router or range extenders use WPS or Wi-Fi Protected Setup. You may need to manually enable this using a button on the hardware or use your router's admin screen to successfully connect a device to your Wi-Fi network.
Forget your Wi-Fi network and restart your smartphone
Go to where you see the Wi-Fi networks on your phone. For iOS use the small I sign next to the network name to forget your network. For Android long press on the Wi-Fi network name. Then restart your smartphone and reconnect to your 2.4 GHz Wi-Fi network and try installing your Smart Dimmer.
Reset your Smart Dimmer and reconnect
The Smart Dimmer must be blinking rapidly to connect. If it's not blinking rapidly press and hold the power on/off switch for ten seconds until it is blinking rapidly and in pairing mode.
Use the Feit app to connect your dimmer to Wi-Fi. Here's a video for Single Pole installation that also includes steps to connect the Smart Dimmer to Wi-Fi. Here is a guide on How to Connect.
Try AP mode or other connection methods
Your Feit app will show other connection methods on the connecting screens. One method is AP mode. Here are the AP Mode guide and a video with more information.