Installing the Smart Flood Light Camera under a soffit or an eave.
Yes, the Smart Flood Light Camera can be mounted to the underside of the roofs eave or soffit. However, it is recommended that it is safely and strongly secured using all parts for mounting.
This type of mounting installation may limit the motion sensor sensitivity and restrict light reception to the Dusk to Dawn sensor if the roof overhang blocks direct access to the light fixture. For optimal performance, the base of the motion sensor should be placed parallel and 9 feet above the ground.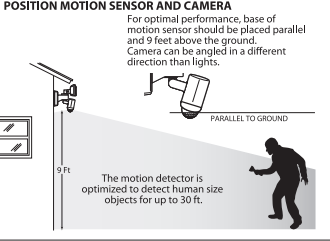 For more information about how to mount the Smart Flood Light Camera please watch How to Mount the Smart Flood Light Camera. You can also read the manual here
You can also view our installation video here
Frequently Asked Question
Installed the camera under my eave, but the feed is upside down
This is a common occurrence since the Flood Light Camera is intended to be installed against a wall. Please follow the steps below to flip the live feed view:
Launch the Feit Electric app and tap on the Flood Light Camera icon.
Tap on the Pencil icon in the top right-hand corner.
From Settings, tap on Basic Feature Settings.
Tap on the Toggle Switch to the right of Flip Camera Screen option.
Your cameras screen should now be flipped.