How do I know if my tube light fixture is shunted or non-shunted?
Light fixtures play a crucial role in our daily lives, but not all fixtures are created equal. Understanding the difference between shunted and non-shunted light fixtures is essential, especially when it comes to choosing the right type of lights. This article will guide you through the key distinctions between these fixtures and the corresponding light options, complete with images to illustrate the differences.
Step 1: What Are Shunted and Non-Shunted Light Fixtures?
Shunted and non-shunted fixtures refer to the wiring configuration within fluorescent or LED tube light fixtures. This wiring arrangement dictates the compatibility of lights with the fixture.
Shunted Light Fixtures: Shunted fixtures have the electrical contacts connected or "shunted" together. In these fixtures, the line and neutral wires are electrically connected. These fixtures are designed for instant-start ballasts.
Non-Shunted Light Fixtures: Non-shunted fixtures have separate, unconnected electrical contacts. Each contact operates independently, which is ideal for rapid-start or programmed-start ballasts.
Step 2: Identify the Fixture Type.
To ensure you choose the right lights for your fixtures, you need to identify whether they are shunted or non-shunted. Here's how.
Check the Fixture Label: Newer fixtures may have a label indicating whether they are shunted or non-shunted.

Inspect the Sockets: If your fixture has tombstone sockets (the part where the light pins fit), shunted sockets have both contacts connected, while non-shunted sockets have separate contacts.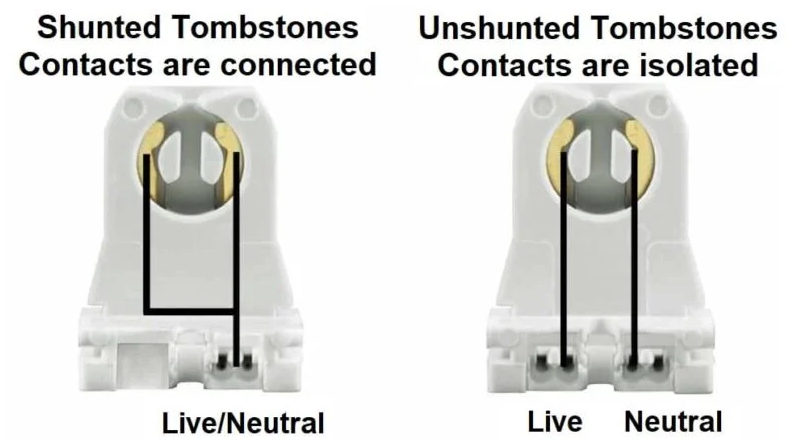 Step 3: Choose the Right Lights.
Now that you understand the difference between shunted and non-shunted fixtures, let's explore the lights that correspond to each.
For Shunted Fixtures: Shunted fixtures are compatible with single-ended LED or fluorescent tubes. These bulbs have pins on one end, allowing them to work effectively in shunted sockets. They are often referred to as "single-ended" bulbs and are common in commercial and residential applications.
Feit Electric Plug & Play Lights - Type A
For Non-Shunted Fixtures: Non-shunted fixtures require double-ended LED or fluorescent tubes. These bulbs have pins on both ends and operate seamlessly in non-shunted sockets. They are sometimes called "double-ended" bulbs and are widely used in industrial settings and professional installations.
Feit Electric Ballast Bypass Lights - Type B
Understanding the difference between shunted and non-shunted light fixtures is critical when selecting the appropriate lights. Ensure your lights and fixtures align correctly to prevent issues and ensure your lighting system works efficiently.
____________________________________________________________________________________
When to Replace Older Ballasts:
The lifespan of a ballast can vary depending on factors such as the quality of the ballast, the frequency of use, and power surges. In older homes with original ballasts, you should consider replacing them under the following circumstances:
Inefficiency: Older magnetic (or electromagnetic) ballasts are less efficient than modern electronic ballasts. If you notice flickering, buzzing, or a delay in the lights turning on, it may be time to upgrade to electronic ballasts.
Excessive Heat: Overheating ballasts can be a fire hazard. If you touch the ballast, and it feels excessively hot, this is a warning sign that it's time for a replacement.
Burnt Out Lights: Frequent burnouts of fluorescent lights may indicate a failing ballast. If replacing the lights does not resolve the issue, the ballast may be the culprit.
Visible Damage: Physical damage to the ballast, like cracks or exposed wires, is a clear sign that it needs replacement.
Age: If your home has an older ballast (over 20 years old), even if it's still functioning, it's advisable to replace it with a more energy-efficient electronic ballast for improved performance and safety.
Older homes with tube light fixtures often have traditional magnetic ballasts. While these ballasts can have a long lifespan, they may become less efficient or unsafe over time. Regularly inspect your fixtures for signs of inefficient operation or visible damage. If you notice any issues, consider upgrading to electronic ballasts for better energy efficiency and safety, ensuring your lighting system remains reliable in older homes.
Check here for the latest Ballast Compatibility Information.